Our guidelines on pricing Bengal Kittens
We tend to think of kittens and cats in four quality bands :

Show quality
Breeding quality
Normal or Pet quality (£500)
Grey ticked


Show quality
To us this means no significant faults. No full rib stripes, glitter to be seen easily, no lockets, short sleek coat, muscular with good strong bones. The cat should also show strong contrast between spots and background colour with a crisp spotting pattern.

Breeding quality
This means one major fault (e.g. a locket, whip tail or full rib stripes) or just a few much smaller faults BUT otherwise a nicer-looking cat than normal quality. This means that a prospective breeder would expect some kittens from this cat to show the appearance flaw, but where the flaw did not appear, those unflawed kittens would be show quality. If a cat is called breeding quality, this does not mean that you are entitled to breed pedigree kittens from it - see the description of Active and Non-Active status below.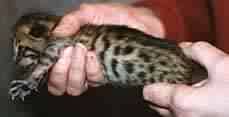 Jasmine at one week old
Normal or Pet quality
To us this means several show faults or more than one major fault. The cat might show glitter - but maybe only very slightly, if placed in just the right light. The markings may be indistinct, with less contrast between spots versus background coat and there may be little colour in the background coat. We would normally price Bengal kittens of this quality from £450, fully vaccinated and GCCF registered, sold non-Active. (Note : "fully vaccinated" - this does not include the Feline Leukaemia vaccine - we recommend that your Bengal kitten should receive the Feline Leukaemia vaccine, but it should not be given too early.)

Grey ticked
These cats are less attractive than black and gold cats and rarely show any glitter. They are still a real pleasure to own but should be less expensive than normal quality kittens.

Paying for your kitten
We have heard more than one story of decent Bengal cat breeders not being paid for kittens where part of the payment was agreed to be made later. Due to this, we regret that we cannot let a kitten go until payment in full has been made and (unless cash) cleared. We are sorry about this but hope you will understand.
Asian Leopard Cat
(Basil)