Inca had a litter of three kittens by Titan on 6th October 2003. All these 3 kittens were released to their owners in January 2004.
There are several more nice photos of Inca's latest litter, including some from their new owners at 6 months old - click on any of these three photos to see them all.

First photo : Incas lighter, slightly smaller spotted male kitten Sam (Norcastle Samuel) looks nice at 13 weeks old.

Second photo : All three kittens at 7 days old. Notice that, at the bottom of the photo, Tinca's brother has a friendly paw across her neck!

Third photo : Inca looking after her kittens. The stairs were a favourite place to play as soon as the kittens were big enough to mix with our other adult cats.

Inca is a very good mother and all her three kittens grew well - she's happiest when she has kittens (we still have Inca's mother Tessa and three of Inca's kittens with us - big Jacob and little Melody can be seen below on this page; click on Melody's photo to see Major, her brother, also).

Click on any photo on this page to see it much larger with more information.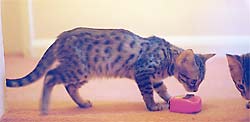 Incas small male spotted kitten Sam (Norcastle Samuel) at 13 weeks old
All three kittens at 7 days old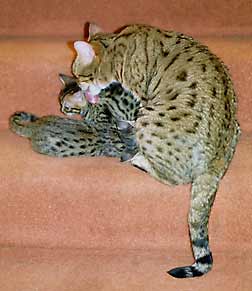 Inca washing Sam while Taz suckles